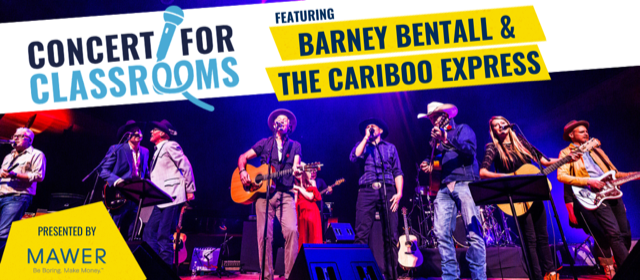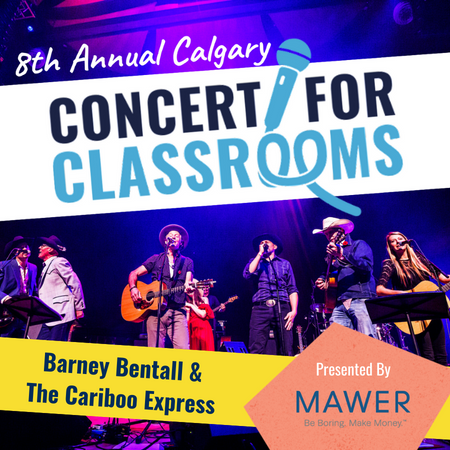 Concert for Classrooms: Barney Bentall & The Cariboo Express for Classsroom Champions
Friday, Nov. 4, 2022
7 p.m.
Bella Concert Hall
Buy Tickets
This one-of-a-kind concert with Barney Bentall & The Cariboo Express is an incredible music and fun-filled evening that features some of Canada's best heartfelt roots, folk and rock favourites - all while you support bringing more champions to more kids, and remembering a local champion, the late Peter Burgener.

For more information visit: https://www.ConcertForClassrooms.org/Calgary

The 8th annual Concert for Classroom Champions is a tribute to the late Peter Burgener. Barney Bentall and Concert Host Matt Masters, Peter's son, will introduce each song with a monologue (often hilarious) about the generous song sponsors. Thanks to Mawer, all concert funds raised will go to Classroom Champions to fulfill the charity's mission to empower children to thrive socially, emotionally, and academically through the mentorship and mindsets of world-class athletes.

This year, your support will again go directly towards supporting programs for schools and students on and off Indigenous reserves in Western Canada, including Classroom Champions' CIRCLE program that brings more Indigenous athlete mentors to Indigenous students so they can learn skills to thrive in AND outside of the classroom.

Together we can make a difference in the lives of every child. We hope you'll join us for an awesome evening of music!