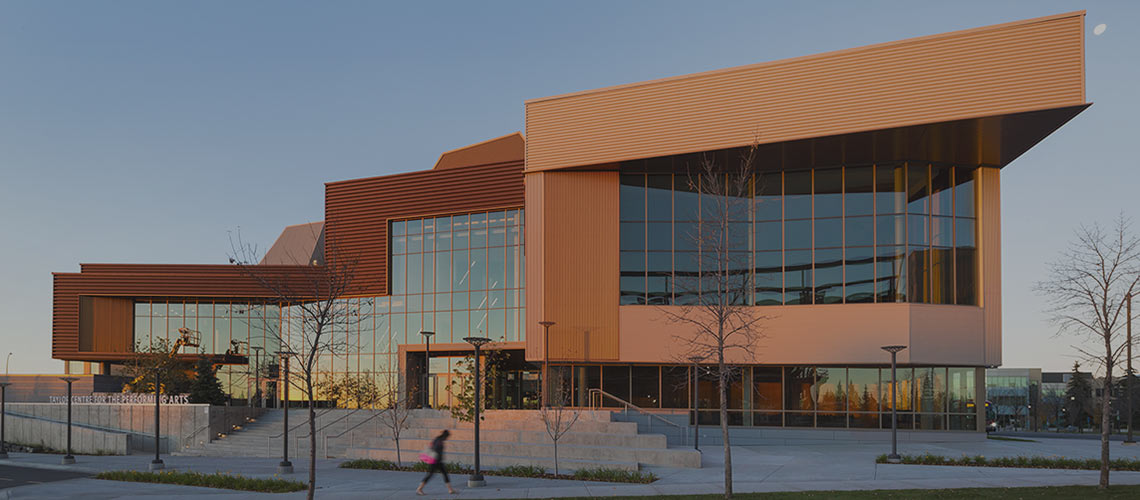 About the Taylor Centre for the Performing Arts
Located on the campus of Mount Royal University, the versatile Taylor Centre for the Performing Arts is a world-class facility dedicated to meeting the needs of the community. From international icons to up-and-coming talent, the TCPA truly showcases the best the arts has to offer.
The Bella Concert Hall is the heart of the facility, providing state-of-the-arts acoustics in an architecturally stunning environment. And we are proud to be the home of Mount Royal Conservatory, which has played a pivotal role in Calgary performing arts scene since 1911. The Conservatory inspires more than 10,000 registrants annually through a variety of programming, concerts and events.
Giving a nod to MRU's heritage, the Taylor Centre has been designed to resemble a barn — the school's original building was nicknamed "The Barn" by staff and students. Aged metal, grey silt and copper mark the centre's exterior, while skylights and glass walls flood the interior with natural light. Adding to the warm, inviting atmosphere are the cherry-wood walls throughout the inside of the building. The breathtaking building is designed to LEED Gold specifications.
The TCPA is the recipient of the City of Calgary's Award for Accessibility. The 95,000-square-foot building and features accessible seating in all our performance spaces. Assistive listening devices are available for the Bella Concert Hall and TransAlta Pavilion.
In addition to its memorable public areas, the multifunctional TCPA features instructional spaces for private lessons, rehearsal halls for ensembles of all sizes and a dedicated wing for the Conservatory's Early Childhood music programs.