Changing perspectives in more ways than one
Canadian conductor makes orchestral music more accessible and breaks down stereotypes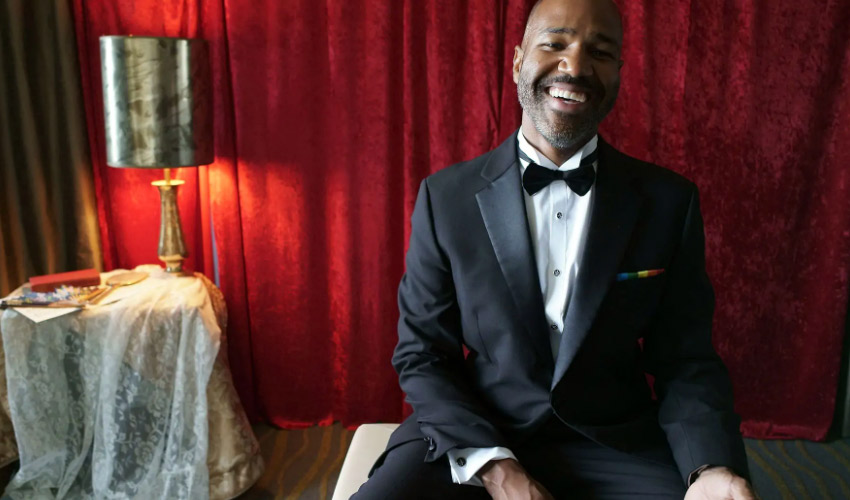 Daniel Bartholomew-Poyser has always challenged industry norms, particularly around consumers and performers of orchestral music. Photo courtesy CBC.ca.
---
The roots of success
Despite his global experience and international success, Canadian conductor and Mount Royal Conservatory alumnus Daniel Bartholomew-Poyser considers himself to be an Albertan through and through. Having lived and thrived in the province for 30 years before relocating to pursue work as a professional orchestral conductor, Bartholomew-Poyser is always tooting Alberta's horn without preamble.
"I don't wait for people to ask me about my experience, I just say 'I was at Washington National Opera last year and I went to university in Calgary,' or, 'I'm going to Carnegie Hall next year and I was in the Calgary Youth Orchestra.' I love my home province. I got to where I am now because I grew up in Calgary."
When asked about the impact the MRU Conservatory had on his life, Bartholomew-Poyser recalls one of his first memories performing on MRU's Leacock Theatre stage with the Calgary Youth Orchestra.
"I was so overwhelmed that I could barely play. I was shaking because the sounds that I'd heard coming out of the speakers my entire life were now on the stage all around me.
"Those were some of the most consequential, foundational and impactful musical events of my life. I made friendships as a result of the Calgary Youth Orchestra with people in Europe that have endured to this day, 25 years later."
Bartholomew-Poyser says that many involved in the CYO at that time have gone on to pursue careers in music or music-adjacent job paths which, from his perspective, reflects the hotbed of musical talent at the MRU Conservatory.
"I wouldn't be the musician I am if I hadn't had the opportunity of performing in an orchestra at that level — that's just a fact."

Equity, diversity and inclusion in the arts
Bartholomew-Poyser has always challenged industry norms, particularly around consumers and performers of orchestral music. He produced Canada's first-ever orchestral drag show, created a concert program specifically for inmates, and is often speaking, writing and hosting engagements.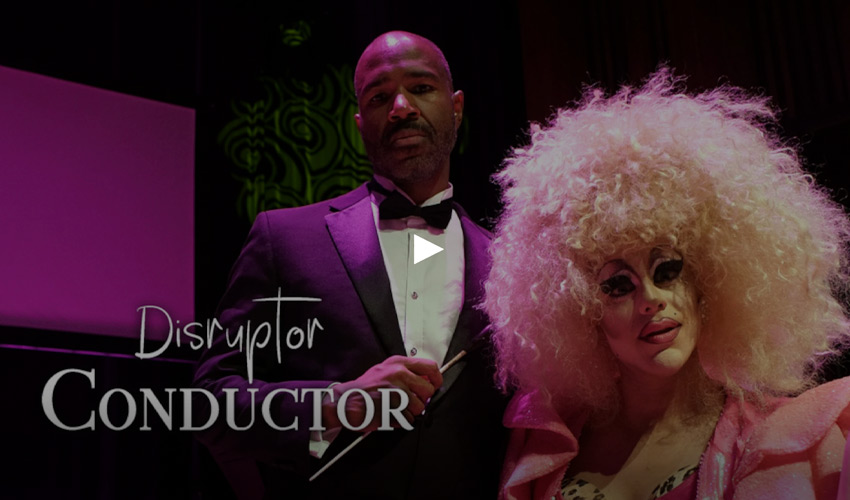 Watch the CBC Gem documentary Disruptor Conductor showing Bartholomew-Poyser as an unlikely hero on a journey to create live orchestral shows that are for everyone. Photo courtesy CBC.ca.
---
For the past two years, Bartholomew-Poyser has been serving on the Board of Orchestras Canada and as the chair of the Inclusion, Diversity, Equity and Accessibility committee. The committee looks at the way orchestras interact with communities that have not traditionally been a part of the orchestral community, with an emphasis on the use of music from Black, Indigenous and people of colour communities.
Bartholomew-Poyser says that, in a nutshell, equity and diversity is about meaningful discussions that lead to meaningful relationships and emphasizes that every conversation is unique. "Calgary's equity conversations and conclusions will look different to those of Winnipeg, will look different to those of Red Deer, High Prairie and Stettler, and that's the way it should be because diversity is diverse."

How does equity, diversity and inclusion impact you?
For those asking what they can do in their own lives to be more inclusive, Bartholomew-Poyser encourages folks to take something they're interested in and push it a step further.
"Maybe you don't mind Indian Raga. Well, take that a little bit further — do a little research, think about an artist, pick one artist and learn something about their career and just become involved."
The reason to be personally engaged is simple. "Because it's fun. The music is fun and that's what it ends up being about — fun, enjoyment, relaxation and learning something new. And, I've seen it work. I've seen concerts where we take an orchestra that works in a certain way and a guest artist that works in a completely different way, put it together in a sensitive, thoughtful manner and by the end of the performance people just feel good."
To young artists who feel under-represented in the world of music, Bartholomew-Poyser says, "If that's how you're feeling it's probably because you are under-represented, so lean into that, and think about what small step can you take to alleviate that by the end of today. Maybe it's a phone call or reaching out to an artist on Instagram, but take one small step every day because those small steps eventually add up."
He also recommends that young BIPOC artists connect with people who are going through the same thing and to not be afraid to reach high and dream big. "Ask for what you need from people who are where you want to be and see what happens."

The future of orchestral performance
Bartholomew-Poyser believes that in addition to the important societal conversations about diversity, COVID-19 has forced a much-needed change in the industry, calling it "a big orchestral reset."
"Orchestra was very traditional but sometimes to the exclusion of non-traditional elements. We knew there were things we needed to change and now we're being forced to change them."
Bartholomew-Poyser predicts that by January 2022, audiences can expect more diversity in the types of programs being offered and the people being played for, especially new groups that were excluded before the pandemic. He points out that while equity and profit are important, those who need music in a different way than a concert housed in an auditorium must always be remembered.
"We're all shut in now but there have been people that have been shut in all the way along. People in long-term care homes weren't able to come to our concerts for years, but now we've produced something for them."
Bartholomew-Poyser says that traditional concert favourites will be a mainstay, but alongside new composers and cultures. "It's really great to look out at an audience and see more people that look like me there, and on stage with me too. I'd love to mentor conductors of all colours. I want to see more of that.
"I think there's going to be a greater selection for music-loving people from the entire community. That's what I'm hopeful for."

What's next for Daniel Bartholomew-Poyser
Bartholomew-Poyser will take part in several online concerts with the National Arts Centre Orchestra and Kitchener Waterloo Symphony Orchestra, in addition to his work as Artist in Residence with Symphony Nova Scotia and as the Barrett Principal Education Conductor for the Toronto Symphony Orchestra. He also hopes to be heading to the U.S. in the fall to perform with the Detroit Symphony Orchestra, Baltimore Symphony Orchestra, San Francisco Symphony, and, most notably, a debut at Carnegie Hall.
Learn more by following his journey online.