A conversation with Calgary Folk Fest
Stabilizing the Calgary arts community amidst a global pandemic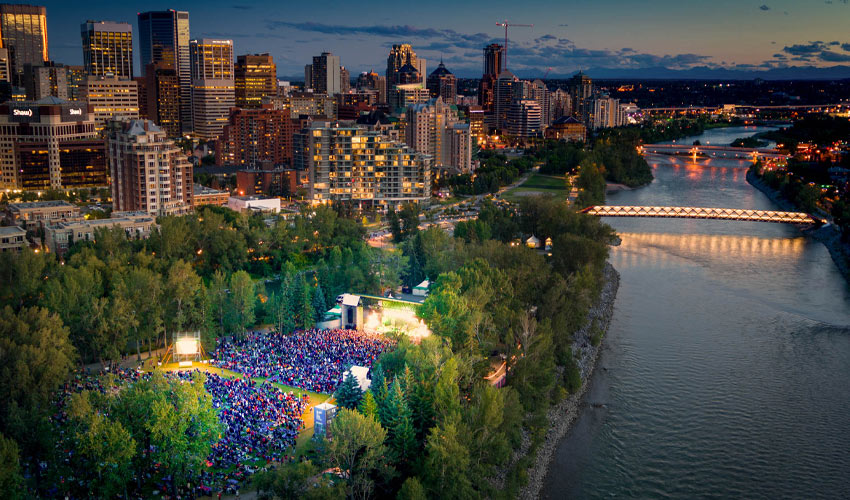 Held at Calgary's idyllic Prince's Island Park since 1980, Calgary Folk Music Festival is one of Canada's flagship, trailblazing music festivals with a national and international profile.
Photo credit: Light Factory via Calgary Folk Fest
---
Small businesses, local restaurants and the live-entertainment industry have all experienced an uprooting of their usual operations due to the pandemic, music festivals have been no exception. Folk Festival Society of Calgary is a not-for-profit organization dedicated to producing music and live festivals year-round. Calgarians most likely know the society by its headline event – Calgary Folk Music Festival. As gathering restrictions were rolled out due to COVID-19, Folk Fest knew that, for 2020 anyway, the writing was on the wall.

Pushing forward
Having pulled off a festival mere weeks after the devastating 2013 floods, the team at Folk Fest was determined to find a way to put on a show during Covid. What started out as postponed summer festivals until fall 2020, quickly turned into cancelling all live audience shows for the remainder of the year. Undeterred, the team went to work to build a game plan to offer virtual shows.
"It became clear that just because we could hold in-person events, didn't mean it was the right thing to do," says Sara Leishman, Executive Director of Calgary Folk Music Festival. Still compelled to engage with the community, it was also important for Folk Fest to find a way to offer artists a paycheque.
Alongside online initiatives like the Isolation Station on Instagram and a digital concert series, Folk Fest ultimately made the decision to host its summer festival live over Zoom. Being one of the first arts organizations in Calgary to sell tickets by donation for an online event, the funds helped offset the impact to Folk Fest due to the pandemic.
Despite the audacious nature of offering a four-day festival live online, and despite all that could go wrong, the Folk Fest team was determined to make it work.
"We were using the information we had at the time, and it never occurred to me that we wouldn't do it live and that we wouldn't do something that was risk-taking – that's just sort of how we roll," says Leishman.

Centering and stabilizing the arts in Calgary
For many arts organizations and artists, these past six months have been filled with anxiety. Leishman shares that through it all, there were still moments that offered a glimmer of hope that the community was going to recover – notably Light up Live, an initiative that took place on Sept. 22, 2020.
"Seeing the events and production community at large coming together to say, 'Hey, we're still here even though we haven't been seeing each other as much,' was a reminder that we've got to figure this out so we can get back to live concerts and events. People will come. As soon as it's safe to do so, people will come back," encourages Leishman
Leishman is optimistic about the future of the arts in Calgary. "I've seen this big doorway open up for the arts to step through and take on a city building role that we haven't necessarily had the opportunity to do in the past."
"Centering the arts is about building community. The community already exists, but the arts are a way of strengthening our cultural fabric and holding people together. The arts are what makes a city a great city," says Leishman.

What's next for Folk Fest?
For the moment, Folk Fest is still dedicated to creating opportunities for artists and arts organizations to broadcast digital offerings out of Festival Hall. Its fall concert season will be postponed until spring, while Block Heater, a winter event, will likely take a hybrid form – both in-person and online – depending on government restrictions and guidelines.
Folk Fest is steering towards an in-person summer 2021 festival. Although it will likely look different than it has in the past and there are still unknowns, the Folk Fest team is committed to figuring out how to make it happen.
"It's in our DNA to build festivals and it might be a hybrid or a digital festival, but the sooner we can get back to in-person concerts and events safely, the sooner we'll have the format in place. Our goal is to figure out how to get people together again and how to do so safely."

Support the arts by purchasing a Centre the Arts sweater or toque made by Local Laundry. Proceeds will benefit the Academy Endowment Fund which provides financial aid to Mount Royal University Conservatory students.