Energizing Calgarians from a distance
Finding inspiration, well-being and community through music during COVID-19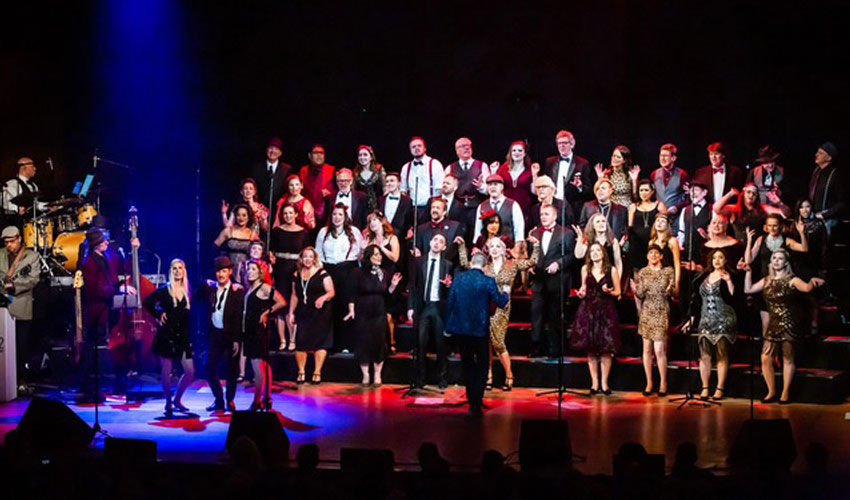 Revv52 members are excited to get back to live performances when it's safe to do so.
---
Revv52 is a Calgary-based vocal performance group known for turning popular songs into unique and original performances. Artistic director John Morgan along with performers Ken Wilson and Manuella Scotton share their journeys with Revv52 and music over the past six months.

Adjusting to distance
Much like the rest of the musical arts community, Revv52 was prevented from practicing and performing in-person due to COVID-19, so when it came to adjusting to smaller groups and virtual performances instead of singing with all 52 members things were quite a challenge. Explaining his love for Revv52 and the impact it's had on his life, Wilson credits Morgan for the success of the group throughout the ongoing pandemic.
"The group wanted to meet, they wanted to be social," said Morgan, which initially led to Zoom hangouts with the team. But casual drinks and conversation wasn't enough and the Revv52 crew decided to take performances to a virtual stage.
"This is a group that's used to performing together at the Bella Concert Hall, being together and filling the house for four nights in a row. How do we go from that expectation to the new reality?"

Moving forward
Revv52 members are excited to get back to live performances when it's safe to do so but COVID-19 restrictions have continued to challenge the creativity of singing groups. They've been forced to explore new ways to provide content for their audiences.
"We're back in person, in smaller groups, six feet apart, wearing masks, with proper sanitization measures in place," says Morgan. He explains that Revv52 plans on streaming upcoming rehearsals, collaborating with international vocal groups and creating interdisciplinary music videos in the near future.
 
Finding national success
With its O Canada project nearing 200,000 views on YouTube, it's safe to say that Revv52 has had incredible success with its virtual content. "One of our members, Akina Slusar, gifted us with the Cree version of O Canada," says Morgan. He explains that the collaborative nature of the project with Slusar's family, a prelude from Richard Harrison, a solo from Canadian R&B artist Justine Tyrell, and the other voices of Revv52 is what made the performance so special. Premiering on Global News' morning show, the performance reached a coast to coast audience.
Revv52's virtual projects weren't just a success in Canada. Viewers tuned in from places like Finland and the United States on the celebrity entertainment show, Inside Edition.
"Audiences were looking for a way to consume live entertainment and we were able to deliver that," says Morgan.

The impact of the arts
Besides performing, socializing is the next top reason people enjoy being in the group, it's closely followed by the benefits music has for mental health and well-being. Serving as a stress-reliever for many, Scotton shares how Revv52 made a dramatic change to her mental health.
After seeing Revv52's virtual performances, Scotton sent in her audition to rejoin the group after taking time off to focus on school in Victoria, B.C. "The collectiveness of Revv52 instantly improves my mood. You can physically feel the love everyone has for each other, just by being in that group," she says.
"You are now part of a community of people who care for you," says Manuella.

Centering the arts
"The core of the arts is storytelling," says Wilson. "Especially now, the arts act as a positive way for people to engage with one another and to find collectiveness."
Morgan believes that centering the arts has to do with where you place the arts in your life and using it as a foundation to build on. "If you make the arts an important part of your life, a lot of good things will follow."
Even if you're not an artist, you can still welcome the arts into your life. Showing up to shows, plays and concerts, whether in person or virtually, helps the arts reach new heights, shares Scotton.
Find Revv52 on Instagram, Facebook, Twitter and subscribe on YouTube or support the group by donation at Revv52.com.
Listen to Revv52's Sweater Season playlist with a collection of hits by Prince, Fleetwood Mac, Queen, Tina Turner, Backstreet Boys and more recorded at the Bella Concert Hall over the last few years. It also includes one of Revv52's most successful virtual performances.
You can also support the arts by purchasing a Centre the Arts sweater or toque made by Local Laundry. Proceeds will benefit the Academy Endowment Fund which provides financial aid to Mount Royal University Conservatory students.