Making waves with Wordfest
Wordfest sees incredible success after taking the virtual plunge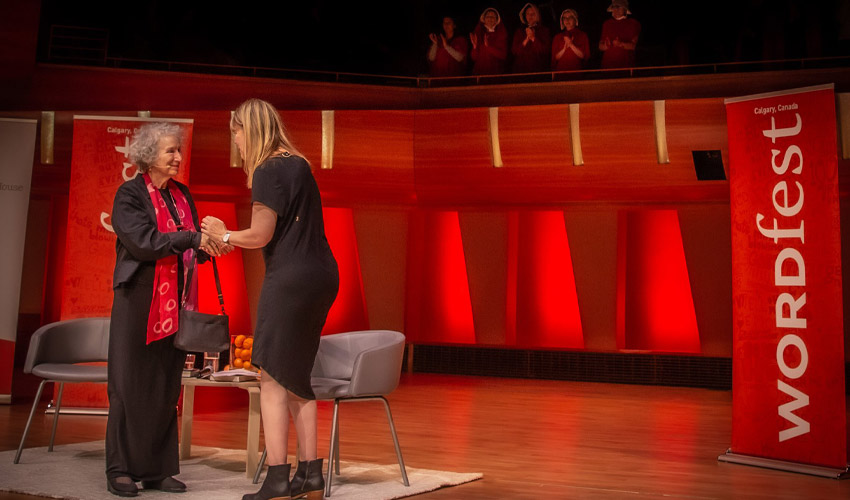 Margaret Atwood, left, shakes hands with Wordfest CEO Shelley Youngblut. Photo credit: Wordfest and Persuasion Photography.
---
Wordfest is a not-for-profit charitable arts organization dedicated to connecting Calgarians with the world's most exciting authors. Shelley Youngblut, CEO and Creative Ringleader, shares how Wordfest learned to thrive in the world of digital events.
Diving in, head first
Given that 2020 was Wordfest's 25th anniversary season, live author events, an ambitious anniversary festival and a lineup of big names were set to take the Bella stage. Youngblut tells us that Wordfest had nothing but sold-out events from January to March and things were only ramping up.
But when COVID-19 hit, Wordfest understood the severity of the pandemic. Holding up its responsibility to the public, Wordfest made the decision to shut everything down, without hesitation. "We let go of what could have been and what should have been, because it wasn't going to happen," says Youngblut.
Finding new, realistic ways to entertain came fairly easy to Wordfest. Having planned on offering online programs for a while, 2020 seemed like the perfect time to start. Changing course from the initial plan of experimenting with virtual programming on a small scale, Youngblut shares that it became Wordfest's entire reason for being.
Going from live events to virtual events was a huge unknown for many in the arts community. "We started with Zoom and almost immediately turned into becoming a broadcaster. After successfully pulling off 25 online events between March and August, Wordfest is now set up as a professional broadcaster, with skills ranging from opening credits and pre-recorded sessions to originally commissioned theme music," says Youngblut.
"Artists are creative, generous people who've created something that's just waiting for you. They've always been giving, you just now know what you're hungry for."

Shelley Youngblut, CEO and Creative Ringleader, Wordfest
Pre-COVID, enticing the biggest names in writing to come to Calgary and finding a venue to host writers on a tight schedule wasn't easy. "We definitely miss being able to connect authors with audiences live and we miss our venue partners, but we've seen bigger audiences, bigger authors and in many ways, we've been able to do extremely ambitious things because of COVID."
Youngblut confesses that the Wordfest team's biggest fear was whether or not they'd be able to attract an audience to virtual events. Thankfully but not surprisingly, their fears were far from reality. At the first free Online Happy Hour event in March, 150 people attended and the most successful Happy Hour saw up to 700 attendees.
Wordfest's anniversary series 25@25 (which paired 25 of Canada's best fiction writers in 13 online conversations) was also a success, surpassing the goal of selling 100 tickets by over 300. "These events are like watching Netflix. They're just as good as a program you would watch on any big network," Youngblut says.
In order to promote inclusivity, complimentary passes are also available for the economically disadvantaged.
"We've proven to the biggest names in publishing that we are the best, not just in Calgary or North America, but in the world," says Youngblut.
Centering the Arts
There's a common misconception that people in the arts are always in competition and it's assumed that the competition was heightened in 2020. Youngblut believes that reality is much different; in fact, the Calgary arts community has become closer than ever during the pandemic. "Although we can't physically be together, we've used technology in a way that allows us to support each other and work through this time together," says Youngblut.
While the arts have different meanings to different people, Younblut feels that centering the arts in her own life helps her become a better human, through curiosity and empathy. She elaborates that the arts affect us in a very personal way and artists are always producing work to help feed us. "Artists are creative, generous people who've created something that's just waiting for you. They've always been giving, you just now know what you're hungry for," she says.
Though the past eight months have been challenging for the arts sector, Youngblut is hopeful that the Calgary arts scene will come out of the pandemic stronger than before. "There's no treading water in any industry, but the arts really need to make sure that they're swimming in the right direction and bring a bunch of people with them."
What's next for Wordfest?
After seeing major success with online delivery, Wordfest is working on a hybrid model for the upcoming year based on COVID safety guidelines. In the meantime, head to Wordfest's website and sign up for its enewsletter to find out more about at least 100 upcoming events. Also be sure to check out 25@25, the daisy chain of conversations with 25 of Canada's best writers runs until December 8, 2020. The fun part is that you don't know who is appearing until one week before the next event but you won't be disappointed. "You're getting the best of the past, present and future, with writers like Lawrence Hill, Margaret Atwood and Thomas King," says Youngblut.
Support residents of the Taylor Centre by purchasing a Centre the Arts sweater or toque made by Local Laundry. Proceeds will benefit the Academy Endowment Fund which provides financial aid to Mount Royal University Conservatory students.