Real talk about overcoming hurdles and unexpected outcomes
Honens believes Calgarians can feel confident that the arts are here to stay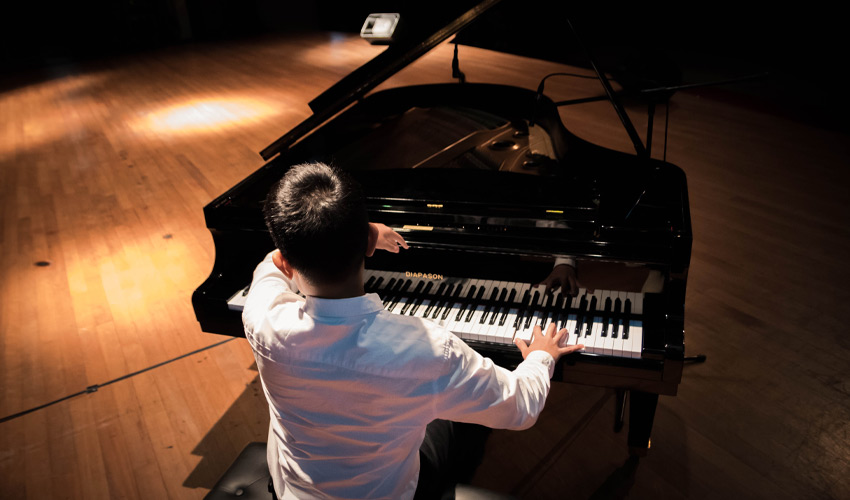 Like many arts groups, the Honens team has been working remotely since mid-March and has worked creatively to introduce marquee programs.
---
The challenges faced by the Honens International Piano Competition have been no different than those faced by organizations around the world. Online concerts, appreciation events and production of pre-recorded content have all been critical to Honens' digital transition. We spoke with Honens President and CEO, Neil Edwards, about this seismic shift.
Diversifying for the better
Edwards believes one of the best outcomes of the pandemic is the necessity to adapt to an online environment, which has allowed Honens to connect with its communities in new and unexpected ways. "From pre-recorded archival content to live concert presentations, we are now able to offer our audiences an even more personal experience, facilitating direct contact with the artists and employing camera angles which guarantee that each attendee has the best seat in the house," says Edwards.
This new and unexpected approach means that the Honens team has had to quickly expand their tech skills, in addition to their regular scope of work, which they did eagerly. The multimedia approach has ultimately paid off, broadening Honens' capacity and allowing it to interact more closely with piano lovers around the world. 
Like many arts groups, the Honens team has been working remotely since mid-March and has continued to collaborate creatively to introduce marquee programs including Honens @ Home, a weekly series of concert recordings distributed to more than 3,000 subscribers across Canada, and The Honens Piano Podcast. "The podcast is a unique initiative designed to spark the public's appreciation and understanding of piano music by listening to outstanding performances by Honens Laureates and experiencing educational and thought-provoking conversations about the music," says Edwards. 
Unexpected collaborations
The shift to online delivery and the need to consistently develop interesting content has encouraged Honens to reconnect with its past Laureates, competitors and other arts groups. 
"This pandemic has absolutely shifted a tendency for arts organizations to work in a vacuum. New and strengthened partnerships have been core to Honens' success during this time," says Edwards. 
Edwards shares that Honens has been successfully experimenting with entertaining and educational online content designed to address core curriculum outcomes of Alberta's elementary science and music programs. 
The first, set to the backdrop of composer Camille Saint-Saëns' Carnival of the Animals, features a pre-recorded two-piano / four-hands video performance from Honens Artistic Director Jon Kimura Parker and his alter-ego Jackie Parker. The story is narrated by local performer and personality Jonathan Love and also features beautiful watercolour images by local design house Arthur/Hunter. Immediately following the video presentation, Parker and Love are joined by University of Calgary PhD student (mammalian phylogenetics and paleoecology), Selina Robson, for a real-time Q&A session about the music, the words, and the highlighted animals.
"We are truly overwhelmed by the success of Carnival thus far," says Edwards. "The response from teachers and students – ranging from the creation of elephant masks to the writing of poetry – was truly unexpected but is warmly welcomed."
Honens continues to present Carnival of the Animals in schools across Calgary via Zoom with expansion planned for the rest of Alberta, across the country and into the United States. The organization hopes to begin the production of a follow-up project in early 2021.
Focusing on the small picture
Edwards is frank about the fact that economic challenges will continue to push arts groups to be creative and collaborative with programming, while temporarily focusing on the smaller picture to survive. Despite the challenges ahead, Edwards is cautiously optimistic and believes that Calgary is still an incredible home to the arts.
"I think it's truly remarkable that a city of this size can sustain a major international piano competition, a symphony orchestra, an opera company, a ballet company and several strong theatre companies," says Edwards. "Not to mention the dozens of other arts organizations which thrive here, each forwarding its own mission and addressing the needs of diverse communities."

Neil Edwards, President and CEO, Honens
Edwards also acknowledges that having a world-renowned concert hall with incredible acoustics like the Bella offers organizations the ability to provide outstanding musical experiences often reserved for much larger cities.
Validating the vital position of the arts
Having spent most of the past 30 years as a senior arts executive, Edwards confirms that the arts have always been front and center in his life, but he believes that the pandemic has amplified the arts' central role in many other lives as well. 
"When people were forced to lock down, what did they do? They read books, watched movies, made art, and feasted from a full menu of newly created online programming. I'm not sure that you will find a more apt illustration than that," says Edwards.
The show must go on
Coming up next for Honens is the 2021 Esther Honens International Piano Competition. Entries to the event closed at the end of October and saw a 30% increase with applicants from around the globe and twenty-eight countries represented. While the Honens team may have to rethink the way they execute the quarterfinal recitals scheduled for March 2021 in Berlin and New York, they are feeling hopeful that the semifinals and finals will still be able to go ahead in Calgary as scheduled October 14-22, 2021.
To keep up with Honens' activities in the coming months, follow them on Facebook, Twitter, Vimeo and YouTube, or visit Honens.com.
Purchase your very own Centre the Arts sweater or toque to support the arts. Proceeds benefit MRU Conservatory students studying in the Academy and Advanced Performance Program which fosters young talent, including many pianists who go on to perform in Honens competitions.