The Taylor Centre presents Sweater Season
New content series aiming to 'Centre the Arts' kicks off this fall featuring special collaboration with Local Laundry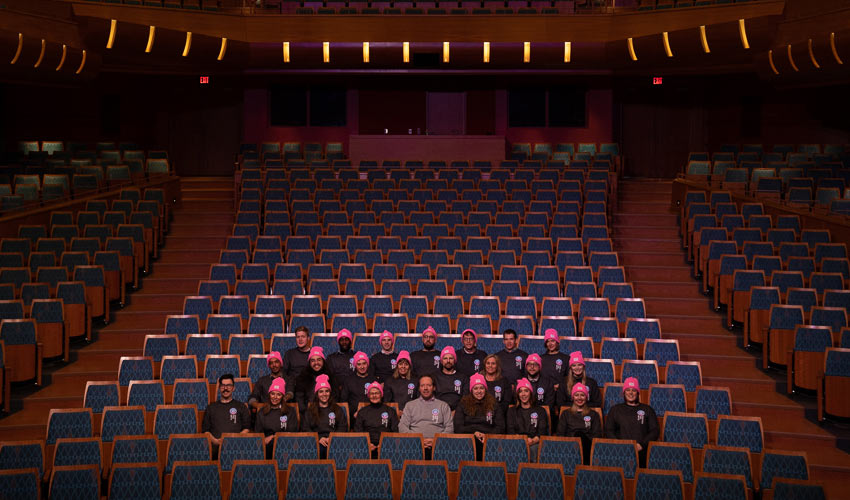 Mount Royal University staff pose in Bella Concert Hall wearing Centre the Arts sweaters and toques.
Photo credit: Aliyah Photography + Design
---
The Taylor Centre for the Performing Arts is proud to present, in concert with Local Laundry, Sweater Season. While we're unable to host our traditional concert season for now, the Taylor Centre remains dedicated to centring the arts in Calgary by presenting this unique content series.
Our Centre the Arts campaign, launched in 2019, aims to highlight the power of the arts in transforming and inspiring lives. We believe the arts connect us to our neighbours, to ourselves and to all our fellow Calgarians. The Taylor Centre promotes all talent – artists, performers and nonprofits – regardless of scale. This is what it means to "Centre the Arts."
With Sweater Season, we're excited to feature stories and performance-based content from a variety of artists and arts leaders, both established and emerging, in Calgary. These contributors will define what Centre the Arts means to them while sharing their talents, tales and predictions for the future of the arts in our city.
To further support the Calgary arts community, we've collaborated with Local Laundry to create custom, locally-made Centre the Arts merchandise, which is now available for purchase. Proceeds from Centre the Arts sweater and toque sales will be donated to the Academy Endowment Fund, which provides financial support to MRU Conservatory students. Local Laundry is also committed to matching every Taylor Centre Giving Toque purchase with a toque donation to a downtown Calgary shelter. 
First in the Sweater Season lineup is a podcast episode with Local Laundry's chief laundry folder, Connor Curran, Phil Cimolai, general manager of the Taylor Centre for the Performing Arts, and Brad Mahon, dean of the faculty of Continuing Education and Conservatory. Tune in next week when the episode launches to hear more about the collaboration, their personal experiences in the performing arts sector and to learn what the arts mean to them.